US Patent Universal Multi Function 6 Port USB Wall Charging Station For Tablet Smartphone

US Patent Universal Multi Function 6 Port USB Wall Charging Station For Tablet Smartphone

US Patent Universal Multi Function 6 Port USB Wall Charging Station For Tablet Smartphone

US Patent Universal Multi Function 6 Port USB Wall Charging Station For Tablet Smartphone

US Patent Universal Multi Function 6 Port USB Wall Charging Station For Tablet Smartphone

US Patent Universal Multi Function 6 Port USB Wall Charging Station For Tablet Smartphone

US Patent Universal Multi Function 6 Port USB Wall Charging Station For Tablet Smartphone
Universal Multi-Port 10.2A 6 Port USB Charging Station Universal Desktop Tablet & Smartphone Multi-Device Hub Charging Dock
EXCLUSIVE DESIGN - Use as a Charging Station or take the Removable 6 Port Hub with you on the go
CHARGE EVERYTHING - All USB ports of this charger are optimized to charge your smartphones, tablets, Bluetooth headphones, power banks, e-readers, portable speakers, MP3 Players, digital cameras and any device that charges with an USB cord.
6X POWERED USB PORTS (2.4A Max Per Port) Includes 6 slots with anti-scratch non-slippery silicone pads to Safely hold and organize up to 6 devices
SMARTFLOW TECHNOLOGY - All Six ports are equipped with Smart IC chipset, which recognizes your connected devices and delivers the most efficient and safe charge for your device, intelligently and efficiently. Includes multiple built-in protections against over-heating, over-charging, and power surges.
Station for 6 Devices: 6 USB ports (3×2.4A, 3×1A) charge up to 6 devices from Phones to Tablets simultaneously, saving you from additional charging adapters or power strips, and keeping the devices organized in order on your desktop
Universal Compatibility: This USB charging station is designed to charge universal iOS & Android smartphones, tablets and any more USB devices. Internationally compatible AC 100-240V power supply
Detachable Baffles: You can arrange the devices as needed via the detachable baffles, between which the slots are wide enough to hold your phones / tablets with case on (even it's a waterproof case or heavy duty case like Otterbox)
Safe & Steady Charging: Built-in surge protection against overcharging, surges and overheating, ensures steady power output to each device. Even when 6 devices charged simultaneously, each device can get the max charging speed because of the embedded smart IC. 6 ports totally 40 watts of power guarantee Multi-Device charging
Package Included: 1×Charging Station, 1×Power Cord, 1×User Manual.
Appledevice: i-Phone 7, 7 Plus, 6S Plus, 6S, 6 Plus, 6, 5S, 5C, 5, SE, 4S, 4, 3, i-Pad Mini, i-Pad, i-Pod
Samsungdevice: Galaxy S6 edge Plus, S6 edge, S6, S5, S4, S3, S2, Note 2, Note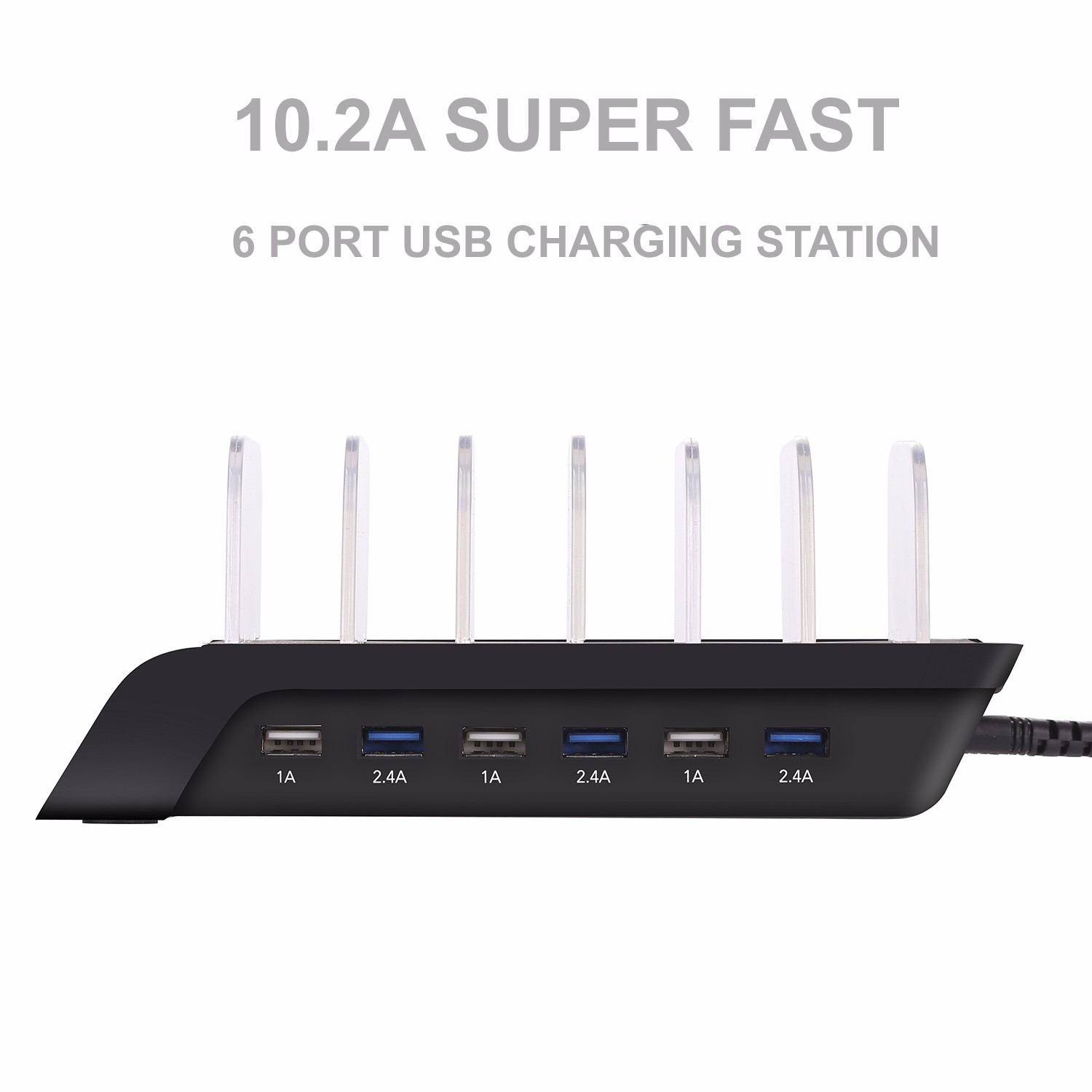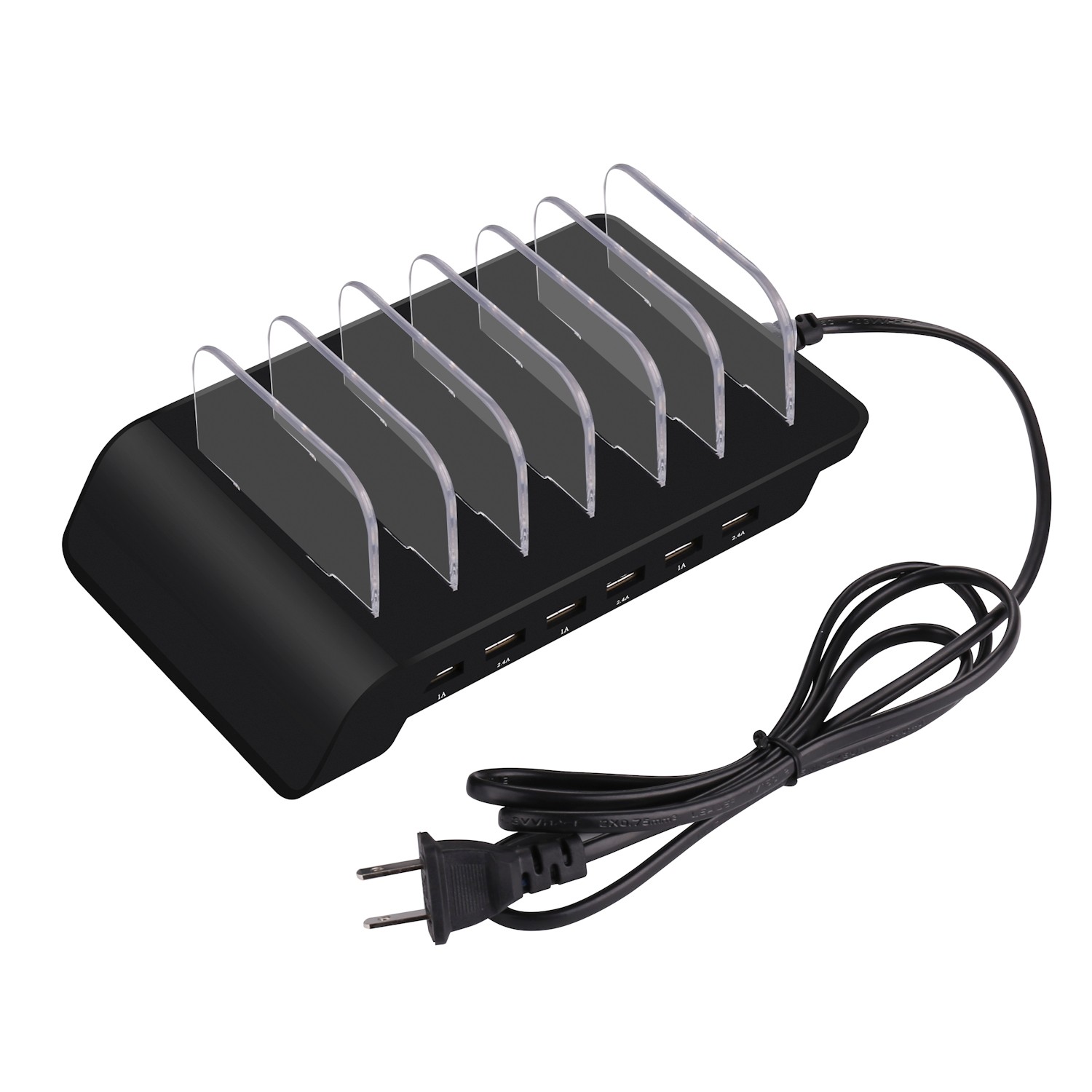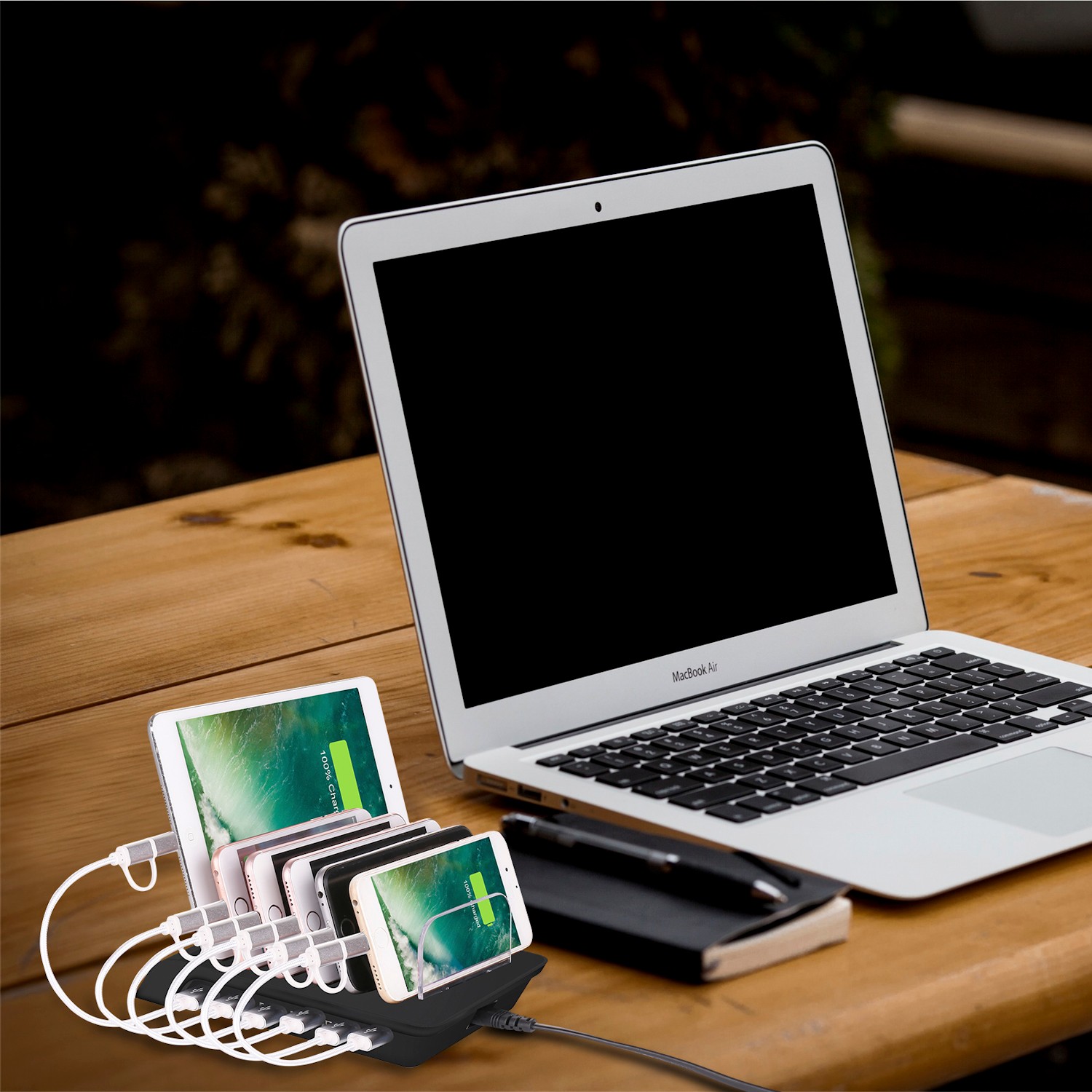 You may love