Universal USB Charging Dock Station 15 Port 5V 20A Charger Station Multi Device Charger Universal for Cell Phone android Tablet

Universal USB Charging Dock Station 15 Port 5V 20A Charger Station Multi Device Charger Universal for Cell Phone android Tablet

Universal USB Charging Dock Station 15 Port 5V 20A Charger Station Multi Device Charger Universal for Cell Phone android Tablet

Universal USB Charging Dock Station 15 Port 5V 20A Charger Station Multi Device Charger Universal for Cell Phone android Tablet

Universal USB Charging Dock Station 15 Port 5V 20A Charger Station Multi Device Charger Universal for Cell Phone android Tablet

Universal USB Charging Dock Station 15 Port 5V 20A Charger Station Multi Device Charger Universal for Cell Phone android Tablet

15 port Usb Charging Dock
Universal USB Charging Dock Station 15 Port 5V 20A Charger Station Multi Device Charger Universal for Cell Phone android Tablet
Product parameters:
Name: 15 ports USB 2.0 Hub (One machine)
Interface: USB2.0 A type Famale
Color: Black+orange
Input: 100-240V AC 50/60Hz
Output: 5V 2.1A
Built-in power supply: 5V 100W
Product weight: 805g
Product size: 293.5*145*73.5mm
Features:
USB2.0 Hub, using BC1.2 protocol, fast transmission and charging.
Built-in 5V/100W power supply to ensure sufficient current to provide.
Each port is indepently protected circuit designed to protect your computer and equipment from damage.
Cerative stent design, to avoid the intertwined between the various data lines to solve the problem of charging equipment, so that your desktop only one article.
Each USB port can automatically allocate the charging current, can meet the 15 mobile terminals (smart phones, tablet PCs, mobile hard drives, digital cameras) and other high-power products to transmit data ans charging applications;
Compatibility. support hot-swappable, plug and play, no need to drive.
Instructions:
1. AC power line connected HUB, to ensure that the power switch is ON state, this time each USB port has 5V output, you can read and write operations,
2.After use, remove the power cord, power supply, Hub and USB and save it.
Precautions:
1. Use in a dry environment to avoid moisture affecting the internal circuit board desigh.
2. Properly plug the smart deigital device, so as not to damage the USB interface.
3. Do not touch the equipment with too high temperature.
4. Ensure that the product is used in the correct voltage environment.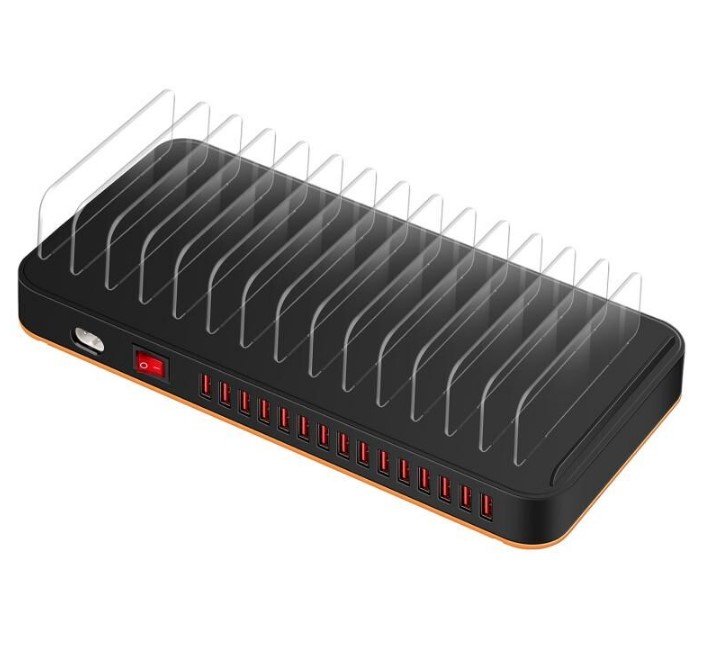 You may love