Support 4k 60hz 1080p fiber AOC active HDMI 2.0 AOC Cable

Support 4k 60hz 1080p fiber AOC active HDMI 2.0 AOC Cable
Fast transfer 100meter support 4k 60hz 1080p fiber AOC active HDMI 2.0 AOC Cable
DESCRIPTIONS
Our new HDMI active Fiber Optic UHD Pluggable HDMI Cable which is suited for critical and versatile installations.It supports HDMI Maximum Data Rate 18Gbps with light weight, flexible and ultra-small long-term bending radius (20mm) hybrid cable. With our advanced optical engine embedded. This HDMI Hybrid Cable provides full HDMI signal integrity, support up to 100m maximum length, plug and play. No external power required.
KEY FEATURES
1.Supports a wide range of resolutions up to 4K@60Hz (color space 4:4:4) 3D and Deep color
2.Supports Multi-channel audio, Dolby True HD, DTS-HD Master Audio
3.Is HDMI compliant: EDID, CEC, HDCP (2.2), HDR (High Dynamic Range)
4. Reduced EMI and RFI
5. Has high pulling strength and compression load
6.Has Source / Display clearly printed on the connector as well as tagged on the cable for easy identification.
7. Support 18G super speed
8. Includes a DC cable to optionally connect an external 5V power supply(if required, this is typically connected on the display side .)
Applications
SHDC-8800 is ideal for long distance transmission in professional AV systems, indoor and outdoor digital signage and kiosks, home theater systems, surgical theaters ,facility automation systems and whenever high resolution video and audio are required .On the display side, the micro HDMI connector enables smooth pulling of the cable. The SOURCE end connects to the source (for example, a DVD, Blu-ray or game console box) and the DISPLAY end to the acceptor (for example, a projector, an LCD display or a tablet device .
Absolute Maximum Rating
| | | | | |
| --- | --- | --- | --- | --- |
| Parameter | Symbol | Min | Max | Unit |
| | VCC | 4.5 | 5.5 | V |
| Operating Temperature | Top | 0 | 50 | °C |
| Storage Temperature | Ts | -40 | 70 | °C |
| Relative Humidity | Hs | 10 | 80 | %RH |
Recommended Operating Conditions
| | | | | | |
| --- | --- | --- | --- | --- | --- |
| Parameter | Symbol | Min | Typical | Max | Unit |
| Power Supply Voltage | VCC | 4.75 | 5.0 | 5.25 | V |
| Operating Temperature | Top | 0 | | 50 | °C |
Specifications
Item

Description

Units

Transmitter (Source)

Receiver (Display)

HDCP & DDC

HDCP2.2 Fully Support bi-directional EDID and HDCP communication

Video Bandwidth

6 Gbps /x3Channel (max)+ Clock.

Supported

Resolution & Distance

HDTV : 480p, 720p, 1080i and 1080p deep color, 4K@30Hz, 4K@60Hz(4:4:4), 3D Full HD 1920 x 1080 , up to 100 meters

O/E Converter

4 channel 850 nm VCSEL array

4 CH GaAs PD array

Connector Type

HDMI type D with HDMI D/Female to HDMI A/Male Adaptor

Connector Demension

Type D: 44.2mm x 12.7mm x 7.1mm W, D, H

Type A : 48.2mm x 20mm x 10mm W, D, H

Pulling Tool: 55.2mm x 17.5mm x 13mm W, D, H

Cable Type

Hybrid type with OM3 fiber and copper wire

Cable Length

15m/20m/30m/40m/50m/60m/70m/80m/90m/100m (with +/-30cm tolerance) Custom length available.

Cable Outer Diameter

4.5mm

Jacket Outer Material

PVC/TPU(Custom)

Cable Weight TBD

Cable Weight TBD

Cable Color TBD

Cable Color TBD

Differential Input

100 ohm (typ)

Power Consumption

250mW (max)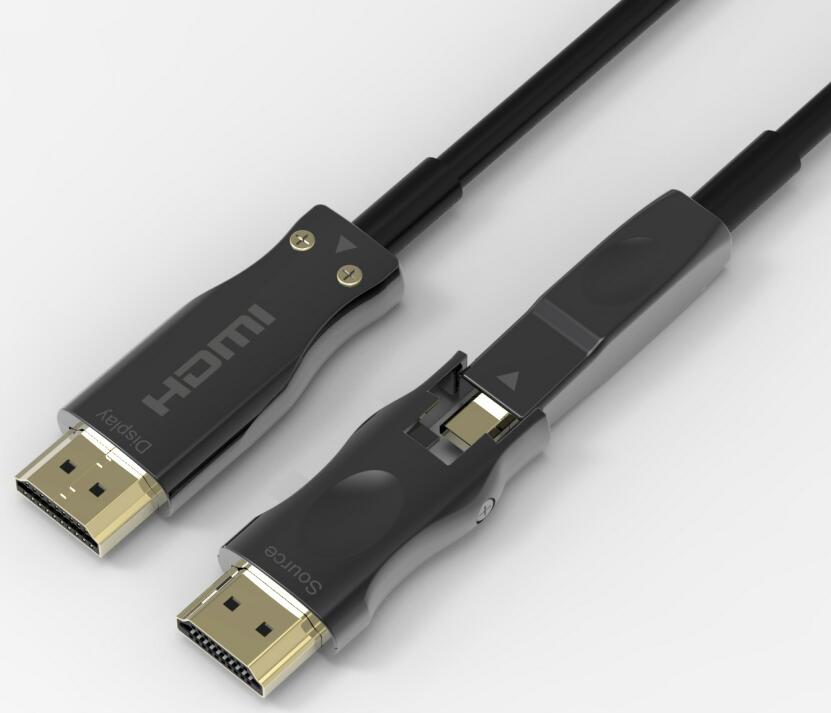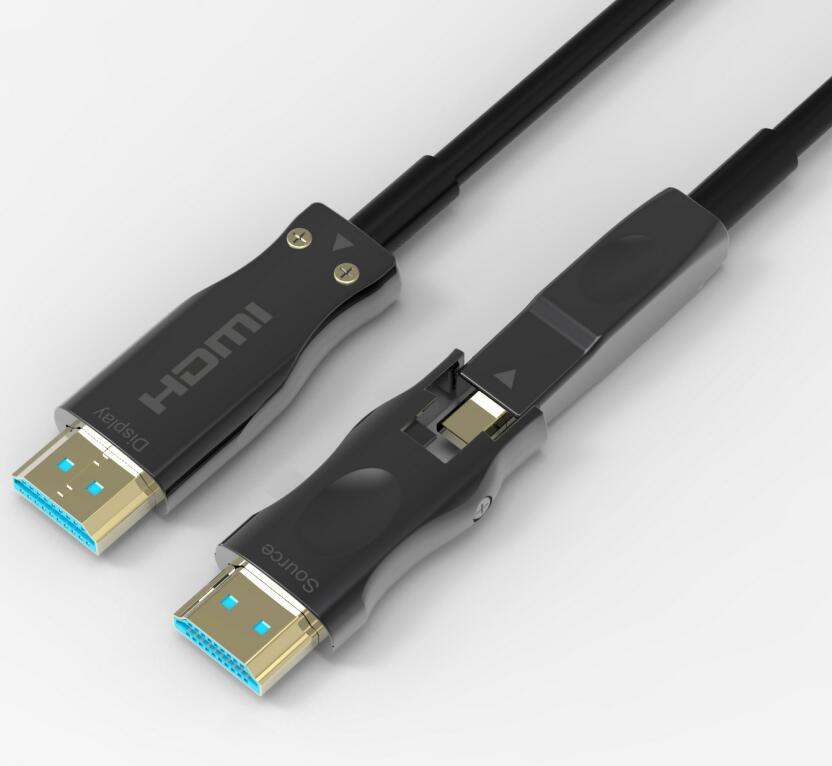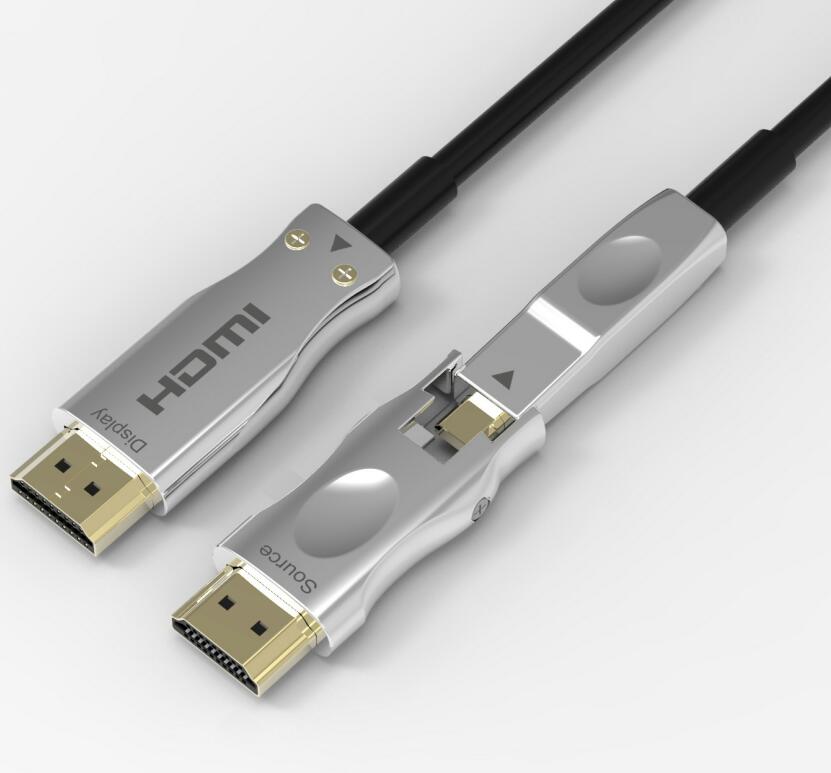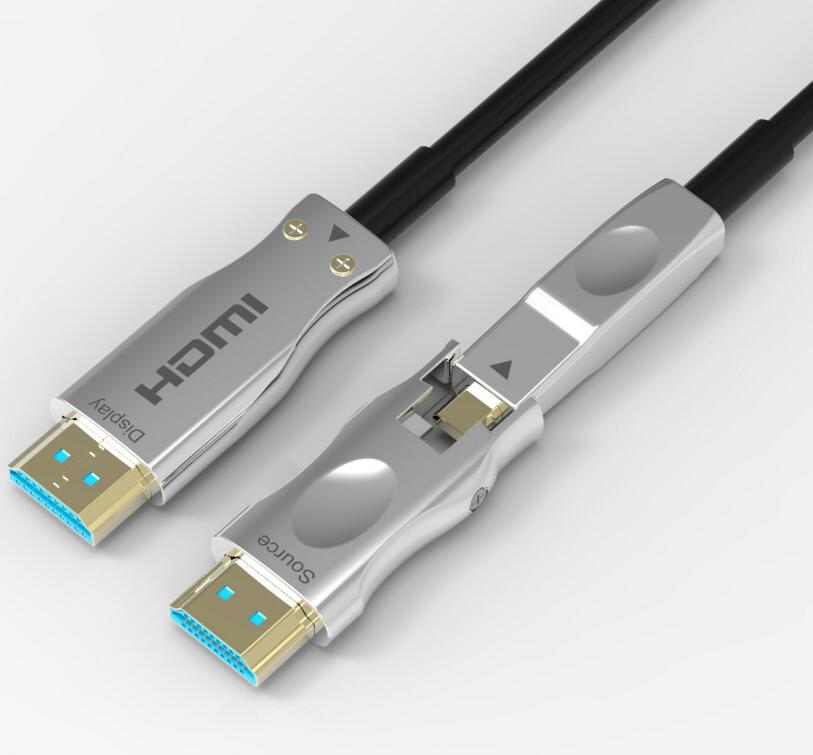 You may love